Deluxe Hooded Carry Liner
Deluxe Hooded Carry Liner
Deluxe Hooded Carry Liner
Available in Black , Blue , Fuchsia , Green , Lilac and Rose

Our line of heavy duty liners fit great with all of our jumbo carts. Sporting 2 carry straps and a hood, this water-proof liner is great for all of your shopping or laundry needs.
Capacity: 80 Lbs. to 150 Lbs., depending on the Easy Wheels model.
Features: Fits all Narita Jumbo, medium size shopping carts, and the Canvas Cart.
It has two carry straps, a hood, and is waterproof. The DLH227 attaches to the frame with Velcro-like fasteners.
Material: Canvas/Nylon
Uses: Ideal for grocery shopping and transporting laundry.
Deluxe Hooded Carry Liner
$15.99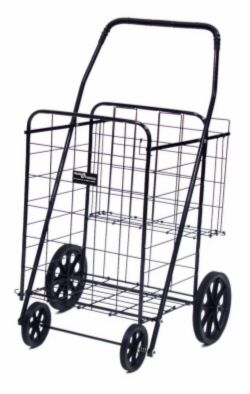 Jumbo Shopping Cart Plus
$54.99
Mini-A Shopping Cart
$39.99